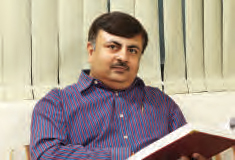 In this era of highly competitive global market, there should be a synergy between today's need & tomorrow's expectation. The structure & delivery of the curriculum at Faculty of Management are contemporary & based on our continuous interaction with renowned educationists & industry professionals.
At GLS University we believe in developing holistic managers and leaders for tomorrow's corporate culture by following a judicious blend of theory & practice, using highly innovative pedagogical tools tailored by the institute to bequeath its students with cutting edge management wisdom. Our endeavor is to groom them to be highly adaptive to the changing business environment and sensitive towards social responsibilities.
The groundwork of our management program is rock solid, built over the pillars of Academic Infrastructure, Faculty Resources, Industry-Institute Interactions and Student Development Initiatives. We have continuously put in efforts to make sure that these pillars are adequately robust so as to produce paramount managers that the business fraternity would look forward to. The institute can modestly claim itself as one of the best in state of Gujarat.
I take this opportunity to invite the business captains to participate in the placement programme of the institute. I am confident that you would be satisfied to your heart's content when you would interact with these budding professionals as a part of institutional placement drive for 2017.
Looking forward to see you at campus.
Dr. Hitesh Ruparel
Director