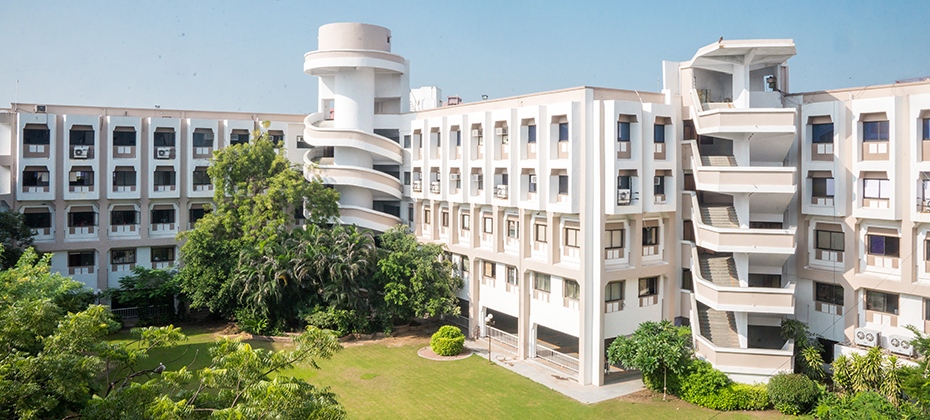 Campus: The academic and physical infrastructure at GLS MBA provides an inspirational environment, inspiring intellectual minds and creativity. The student-friendly ambiance is accentuated by the vast pool of amenities and facilities on a sprawling 32000 sq mt of campus in prime location with state of art infrastructure.

The e- Space: Highly equipped, latest technology supported labs is a unique feature of faculty of management. With more than 230 computers connected to a LAN which bridges the faculties and students for information sharing, GLS also provides an access to a 5.5 MBPS broadband internet connection. The campus has been converted into a WiFi zone to make learning more feasible for the students.

Auditorium: The campus hosts a centralized air conditioned, multipurpose auditorium with a seating capacity of 275 people with a big modular stage and a green room. The auditorium is adequately equipped with latest technology equipment's with uninterrupted power supply, sound systems, video facility and LCD projectors.

The Knowledge Centre: A well-made repository of knowledge makes learning more enjoyable and deep. The Library operates as the principal information reserve and storehouse for all the education and research activities at the institute. Apart from course books and suggested reading material prescribed for each course offered at the institute, the library abodes a growing collection of research reports, reference works, encyclopedias, handbooks, and so on. The annals at the institute prides of 142 international and national journals, as well as over 18500 books, 7199 e-books, reference volumes & CD-ROMS. This keeps the learners abreast about the Indian and Global corporate environment, which fosters and augments their knowledge.

The Learner Rooms: The Learner Rooms at the instituteare designed to endorse interactive learning involving the students and the faculty. All the classrooms are air-conditioned and operational with multimedia and audio-visual equipments that facilitate effective teaching and learning.